Hey everyone!
Sorry for this page being late! Someone asked who Nevrika was. Nevrika is the girl here. Kay? She is the winner of the "Be an Azloean contest and based on Rhiannon from England.
Please vote TWC!
Hey, thank you for answering my merchandise question last week. Now the good news…XYLIA STORE IS OPEN FOR BU'NESS! YAY! Calendar! Other1 stuff! And I will add more items later! GO! SHOP! Remember that the profit from all of your purchases goes to help keep the Xylia project going.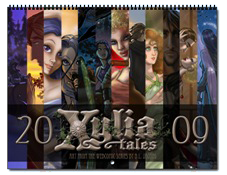 Thank you EVERYONE who has been donating this month! We still need your help. A $3.00 donation will get you a nifty Xylia wallpaper! There are now FIVE new wallpapers for you to choose from!

Thank you for reading!
~B